World Tour, Million-Dollar Kickstarters and my $1,500 Breakfast
(too much email? unsubscribe below!)
IT'S THANKSGIVING!
I work in Asia and am from France so I guess it will be business as usual.
THANK YOU for your continuous support and for reading, still :)

END OF THE ROAD
I've been on the road a lot over the past few weeks: Paris, Stockholm, Helsinki, Tallinn, Seoul, Bangalore and San Francisco. A lot of it is airport-to-conference-hotel and back. Not very touristy. It's still a chance to meet with interesting people and startups. Each trip brings its fare of good surprises. No travel planned until year end - home, sweet home!

15 CLICKS OF FAME
I wrote my first piece for Forbes on "The Six Types of Tech Innovation You Meet In China". It was more work than expected - especially when they told me to cut down to about half of what I had written. It collected about 5,000 views so far, about 10 times less than when I write for Techcrunch (on a good day). I don't know why - maybe a mismatch or lower traffic? Or a bad article? ;p

Don't tell me you want to cut it again

Today's topics:
1. HAX NEWS: apply now / India plans / world tour
2. KICKSTARTED NEWS: Wazer and Vue hit $1mln / car and drone tech
3. EVENTS: robotics / health / crowdfunding / demo day
4. NEW EXPERIENCES: my $1,500 breakfast
5. CULTURAL CORNER: power of myth / black mirror
6. THE WORLD: the US election result found in a 100 years old novel!

1. HAX NEWS

a. HAX 10 IS COMING
It's time to apply to HAX!
The HAX 10 program is starting on Feb 22, 2017 in Shenzhen. We've already interviewed the first wave of startups. As a reminder, we look for hardware / IoT / robotics / Health Tech / Industry 4.0 startups with a proof-of-concept prototype. We already invested in 200 connected hardware startups - making HAX the most active hardware accelerator and seed investor in the world. We had great results with follow-ons by Sequoia, A16Z, Khosla, Xiaomi, GGV and more. And of course many, many successful Kickstarters by our B2C startups.

b. FUNDING
- IoT platform Particle raised $10.4m
- Smartphone printing case Prynt raised $7m
- "Nespresso for cocktails" Bartesian raised funding from Beam Suntory.

With Bartesian, Bob could have stayed in his room

b. NEW CORPORATE PARTNER
We are partnering with Johnson and Johnson to support Health Tech startups. Official announcement to come within a week.

Get ready for the smart baby lotion!

c. INDIA
We are getting serious about India. Our ambition is to invest in 10 Indian startups in 2017. We invested in two this year: Ray IoT and Diabeto, both health-related. In India, we are partnering with various organizations, the largest being the TiE IoT Forum.

India's IoT scene is going to matter soon

d. NEXT STOP: RUSSIA
After the Nordics, East Asia and India this year, I am planning to visit Russia next year. Recommendations for events, startups and good people to meet are welcome. Spassiba!
2. KICKSTARTER NEWS

a. World's first desktop waterjet WAZER ended its Kickstarter with $1.3mln and became the 8th million-dollar campaign from HAX. There has been less than 100 worldwide since 2009!

b. VUE is a fresh take on smart glasses. A discreet design and practical functions like sound via bone conduction, notifications via vibration, touch interface. It's closing on $1mln and will bite our 9th million-seller. One more and HAX will represent over 10% of the top Kickstarter of all time.
VUE: Not just a pretty frame

c. Dashbot by NextThingCo, the $9 Computer guys, is off to a strong start with $100,000 in 2 days. It's like Alexa for your car. If you dreamed to be the Hoff, now is the time!

Unleash your inner Knight Rider for $49 with Dashbot

d. You want a smart drone but don't want to spend a thousand dollars? The Airblock modular and programmable drone by Makeblock can be yours for $99! The campaign passed $500,000.
A modular drone in the house? What could possibly go wrong!

e. It's not on Kickstarter yet, but check out this Star Wars-inspired autonomous gaming drone.

3. EVENTS

a. Robotics
We hosted an event on the Future of Autonomous Robots on Nov 17 in SF. We had a full house with 200 sign ups - it was like a small conference! Speakers were stellar with www, iRobot, Carbon Robotics and a Pleo co-founder. HAX has invested in about a dozen robotics startups already.

All these humans think robots are their friends

b. Health Tech
- With already about 20 investments, HAX is getting serious about health tech and just signed a collaboration with Johnson and Johnson to support our new investments. See here for details.

- I spoke at the HyperWellBeing conference on Nov 15 at the Computer History Museum in Mountain View. First health tech event I speak at! Lee Dryburgh, the organizer, host and curator, did a great job and I learned lots from this first event.

- If you are in SF on Dec 14, join our event on the Future of Health Tech.

c. Crowdfunding
In Shenzhen, we are hosting a "Masters of Crowdfunding" panel on Nov 23 (tomorrow!). We learned a thing or two from over 70 campaigns. We already have 100 RSVPs, sign up while we still have seats.

d. Demo Day
HAX will host its Asia Demo Day in Shenzhen on December 16. If you would like to attend, let me know first as it's invite-only. Please note that we have limited space and prioritize investors and corporate partners.


4. NEW EXPERIENCES

Nothing outstanding over the past weeks. It's just been very busy. I put the combat sports on the back burner and only practiced some yoga with the little time I had.

One story though:

My $1,500 breakfast. A few months ago I was in San Francisco and had a rushed breakfast before an event. Jet lag, dehydration, American-sized portions and who knows what combined to entirely block my digestion.
By the afternoon I wasn't feeling well.

The next day I went for over-the-counter things with strange names like Pepto-Bismol and Tums. Nothing worked and as pressure seemed to accumulate around my appendix, I went for a blood test.
The test showed nothing. I was asked my insurance number and told I would get the bill.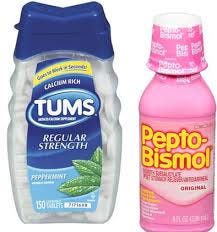 I shouldn't have made fun of the names the first time

A few days later the bill turned out to be $1,500, for a rather routine test that costs less than $100 in France (without medical coverage). The situation wasn't deemed enough of an emergency by my insurer to cover.

Now, I learned from friends that you get a different (and sometimes much lower) quote if you say you don't have coverage! It's a reminder that food - in moderation - is the best medicine and that the US health care system has a problem (apparently a large number of personal bankruptcies are due to medical bills), and to be careful with where you get your care! With its socialist roots, France offers a better deal than Obamacare (which, as we heard many times from the new president-elect, is "a disaster").


5. CULTURAL CORNER

BOOKS & MOVIES

- I had the great pleasure to meet with a professor and researcher in "consciousness technologies". In addition to a great conversation, he pointed me to a series by Joseph Campbell on The Power of Myth. I had read part of his "Hero with a Thousand Faces" book (which details the "hero's journey" and similarities between world's mythologies). I had been working on a column called "The Startup with a Thousand Faces" for several months. Maybe this will help finalize it.

- I watched most of the Black Mirror episodes (a sort of semi-dystopian anticipation series). The new series has less charm than the old episodes, and the ideas developed feel less far-fetched but it was still a good show. I liked the VR horror episode best I think.

- I slept partly through Arrival and recent flights have been quite poor in terms of movie selection. I've resorted to documentaries and interviews. I enjoyed Gerard Depardieu (in French).


6. THE WORLD

The world has been quite agitated - the US elections of course but also protests in Hong Kong, Seoul, and a surprise change in legal notes in India when I was there - I couldn't use one old bill I had!

Sorry sir

- Hong Kong is a real situation but it's too small and too "domestic" for the world to care about. I had a discussion with a Hong Kong artist and political activist who said that "the script is written, but it is still possible to stand in dignity".

- I landed in Seoul as protests were flaring - the story is pretty crazy and quite well explained here. Let's see how things go.

- On the US side, most of my friends and business contacts are on the coasts and decidedly pro-Clinton. I watched the three debates - mostly a battle of soundbites and half-truths with varying doses of poise - the final speeches at the Alfred E Smith Memorial Dinner, and Peter Thiel's speech at the national press club. To me, the most important topics for any country include national sovereignty over trade, immigration and currency, financial systems (particularly the issue fractional reserves and fixing the ability to borrow to a central bank), and foreign policy.

- During this election, my favorite resources have been those by Scott Adams (who predicted the Trump victory) and cognitive linguist George Lakoff (on Trump's use of language and more). A recent article on HBR also explains the difference between the upper class, "middle-class liberals" and the working class. In particular the idea that that poor people respect the rich (that they aspire to become) much more than the moralizing middle-class. Also this one, which looks into the claims against Trump's racism and Glenn Greenwald's take on the case. Please note that I don't necessarily agree with any of the above - or support any candidate - but I found their perspectives insightful.

- Today the consensus seems to be that Trump was helped by "fake news", Facebook algorithms and gullible working-class white nationalists. While those might have played a role, it sounds like it's shifting responsibility a bit too easily. Few seem to consider the possibility of a different reality. One thing for sure is that due to Trump's controversial profile and style, and the ubiquitous social media, Trump will be the most scrutinized president of all time!

- For another view on the problem, I recommend "The Iron Heel" by Jack London. It's not an adventure book for children - far from it! It "chronicles the rise of an oligarchic tyranny in the United States"... probably not what you think:

"The Oligarchy are the largest monopoly trusts who manage to squeeze out the middle class by bankrupting most small to mid-sized business as well as reducing all farmers to effective serfdom. This Oligarchy maintains power through a "labor caste" and the Mercenaries. Labor in essential industries like steel and rail are elevated and given decent wages, housing, and education."

Sounds familiar now? Just replace steel and rail with tech and finance, and add a few modern perks like private bus, day care and freezing eggs. For the sci-fi fans among us, there are also similarities with the Mule character in the Foundation series by Isaac Asimov. It apparently inspired Paul Krugman's economic theories - his core vs. periphery ideas might related to Trump's victory too!

- Let's see what France will bring us. Fortunately it won't be Sarkozy. Unfortunately the alternatives are not exciting either.

Until next time!

Ben @ HAX
Email: ben@hax.co
Twitter: @benjaminjoffe
LinkedIn: benjaminjoffe