What I learned from tech events in 8 countries, Million-dollar Kickstarters, and How not to have fun skydiving
(not interested in tech ramblings? unsubscribe for free at the bottom)

Dear friends, it's been some time- lots happened!

Focus your reading:
1. WHAT I LEARNED FROM TRIPS & EVENTS | It's conference season!
2. GRADUATION OF HAX 8 STARTUPS | Robots, health tech, awesomeness
3. WIRED DOCUMENTARY ON SHENZHEN | Part 1 - 2 - 3 - 4
4. HARDWARE TRENDS 2016 REPORT | 136 pages and 20,000 views already
5. CULTURAL CORNER | The Wicker Man, HBO Silicon Valley
6. NEW EXPERIENCES | Skydive, Pilates and a long flight

===

1. WHAT I LEARNED FROM TRIPS & EVENTS
Back from Tokyo, Beijing, SF, Vienna, Paris, Hong Kong, Shanghai and Taipei.

Your mileage won't count if you fly low cost

I'm in Bangalore this week- speaking at TechInAsia and a Hardware Meetup (tonight!).
Will we meet a first Indian hardware startup to join HAX? (we've had lots of founders of Indian origin but no 100% made-in-India startup).

About what I learned from the various conferences I joined:
SF overall: Investors are getting conservative. Revenue (hardware / SaaS), or fast user growth are all the more necessary. A lot of the early risk is now offloaded to accelerators and angel investors. The gap to series A has widened.

Maker Faire: Definitely more of a family and hobbyists event than a startup one. HAX did not even have a booth this year. We're all CES now. Cirque du Soleil vs. the giant fire-breathing Octopus.

Pioneers Festival (Vienna): Good show as usual and outstanding venue. Europe has interesting science-based startups, but have a hard time growing.

Innorobo (Paris): the robotics trade show. Not impressed. Plastic 3D printers feel so 2012. Robotic arms didn't seem to show much innovation. There was a full section with Softbank's Pepper, half of them looking exhausted from chatter and hand waving. Pepper still fills half way there in terms of service robotics. Humanoid robots have way to go.

Future of Fabrication sold-out event by HAX at TechShop in SF with EIGHT awesome speakers (in 2 panels). History in the making - if someone took notice. Tools are getting smarter, digital, and will allow working with many difficult materials - from hard to organic. Note that WAZER, the first desktop waterjet cutter, is launching in September on Kickstarter.

Slush Asia (Tokyo): nice vibe but lack of outstanding startups. The hope lies more in the future of the scores of volunteers than in the immediate event outcome.

GMIC (Beijing): huge show but felt less international than before. Big names don't seem to show up anymore. Some rising IoT / hardware / robotics interest but mostly local. Valuations are high and Chinese investors are looking... abroad.

RISE (Hong Kong): A flurry of startups, mostly greater Asia minus East Asia. A good job considering China and Japan do their own thing.

TechCrunch Disrupt (Shanghai): A difficult positioning. The number of startups and relevance of the crowd was limited. It's hard to make a name in China + global brands really go there only when they are already unicorn-level. Local startups don't seem to care that much about the global vibe as they are China-focused.
PS: We are always looking for startups for HAX Accelerator (starts in September), HAX China (starts this month) and HAX Boost (programs year round - if you have a product to scale). Apply here.

2. GRADUATION OF HAX 8 STARTUPS
Demo Day came and went. We welcomed 100 VIPs in Shenzhen and a staggering... 500 guests in SF. Here is the list of fine startups that just graduated and their video pitches (<5min each).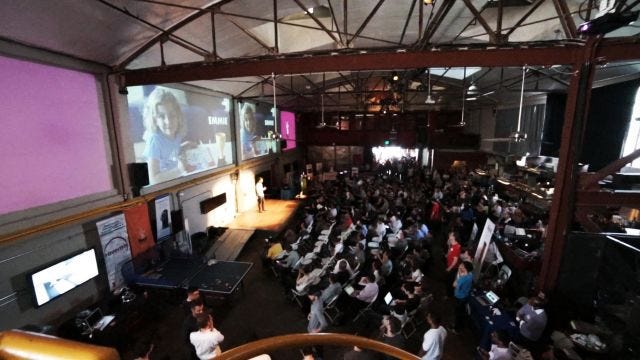 HAX Demo Days

On Kickstarter:
Nura: the first headphones that tune to your hearing. Already $900,000+

Octopus: a watch for kids to build good habits. Already $500,000+

Trainerbot: a robot to train ping pong!
Health tech
Robotics
Rovenso: a big robot that climbs things and carries heavy weight or robot arms in harsh environments.

Trashbot by Clean Robotics: a robot trash can that sorts waste automatically.
Fabrication
Kniterate: a CNC knitting machine that knits sweaters, hats, neckties, etc. Soon on Kickstarter!

WAZER: the first desktop waterjet cutter. Steel, titanium, ceramic, you name it. Soon on Kickstarter!
Lifestyle
Stepp: the first running wearable tracking form and fatigue.

Grobo: the home growing system for any plant. Including those medicinal ones, yes.

TheAlphaGlass: new technology for AR glasses. Full-lens display.
Infrastructure
LumenCache: the best way to power and control devices in new smart buildings
There is a good chance we'll have THREE million-dollar crowdfunding campaigns from our B2C startups this time. They will enter the global Top 100. At some point it's not a coincidence anymore.


3. WIRED DOCUMENTARY ON SHENZHEN
It's called "Shenzhen: The Silicon Valley of Hardware".
Four parts of about 15 minutes each. Great insights, and free. HAX inside. Part 1: The Silicon Valley of Hardware (15min) Part 2: The Maker Movement (15min) Part 3: A New Breed of Intellectual Property (15min) Part 4: Reinventing 35 Years of Innovation (15 min)

4. HARDWARE TRENDS 2016 REPORT
It's live with 20,000 views already.
So hardware. Much trends. Wow!

136 pages of trendy information for free

5. CULTURAL CORNER
No politics this time. Trump, Brexit... better wait for the dust to settle.


Cult movie alert: I watched The Wicker Man. It's a mix of Twin Peaks and Salo - weird, a bit old-fashioned, but utterly enjoyable. I recommend watching it without reading anything about it to avoid spoiling the surprise. You will look at Burning Man with different eyes.
The Wicker Man: Those guys don't care about Brexit
The last episode of Season 3 of HBO Silicon Valley was the first one for which I felt a bit of emotion despite the rather predictable final twist. Other episodes were entertaining but felt like work. My favorite character is still Gilfoye but I have a new liking for Erlich and Jared. Even Dinesh and Big Head were somewhat likable. What's going on?


Kung Fu Panda 3 was a disappointment ;p sometimes airlines don't give you much choice...

6. NEW EXPERIENCES
I did the skydive. No GoPro, no photo. Just a light sunburn. Apparently only one other participant and me didn't find it so amazing. My instructor - an Austrian woman - kept asking me "are you excited?" going up. I was interested but not excited. The climb in the rickety plane was memorable, and my mind went blank for the first few seconds off the plane. After that, it's a cold fall with a static landscape (you're so high) followed by a gentle uneventful parachuted descent. The instructor mentioned some find more fun to jump alone and be in control. Maybe. It sounded almost mandatory to be exhilarated. Anyway, it's off the bucket list. Two friends who participated are usually wheelchair-bound and apparently had a good time. One is a former serviceman and is into adrenaline.
You paid good money for the jump and the GoPro
so you'd better look happy.
A long way home: I had a series of FIVE connecting flights to get from SF to Vienna (SF -> Vegas -> London -> Paris -> Vienna). Let's just say it felt (and was) very long. Reading helps. Oh, and my baggage took an extra week to reach me when I got back from Vienna to Paris. We had parted ways after Vegas. Lesson: sleep when you can, keep your socks dry, and always have your towel with you.


Workouts have become irregular due to business trips. Boxing is getting better. BJJ is still largely helpless, moving from "unconscious incompetence" to "conscious incompetence". Wing Chun has been neglected - still learning the moves. On the gym side, I finally tried a pilates session. Now I know.


Next up: likely a 3-days meditation retreat (already did a 10-days one a year or two ago) and a week-long fasting. How, when and where TBD. Have you tried it?
That's all for now. Welcome to Bangalore!
Benjamin