I'd rather eat insects than drink coffee- HAX startups give you choice! That and some more news
(You're getting this email because we met- or we should? Or just unsubscribe at the bottom?)

Bonjour?

Well well. Eventful times!
0. Paris news. And a presidential selfie.
1. The State of Hardware 2015. Our latest Techcrunch thing.
2. Crazy startups from HAX 7. Zap your brain, eat bugs.
3. Apply to HAX 8
4. Event Calendar
5. Culture Corner

===

0. PARIS SOUS LES BOMBES

Back to Paris for a bit, 2 days after the terrorist attacks.
People are fighting back with #cafeaulait et #jesuisenterrasse.

Sadly, it looks like it was a perfect excuse for our government to pass new surveillance laws and wage more war. How could President Hollande do that after this selfie we took together?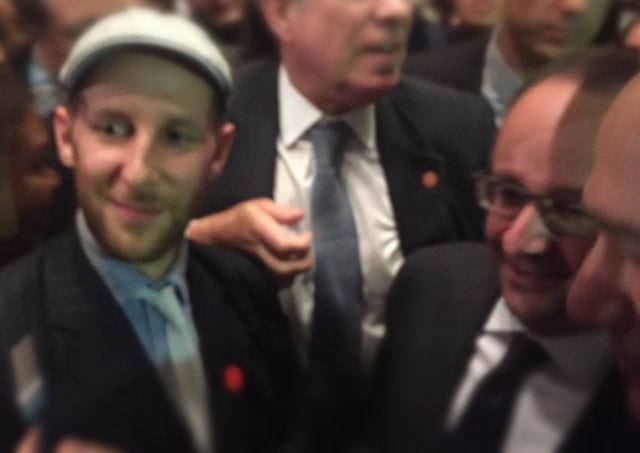 Thank you for this moment.


So what's new since last time?

1. THE STATE OF HARDWARE 2015

Such a grandiose cover!

It's fresh off the press on Techcrunch yesterday and passed 30,000 readers on slideshare. You'll find there a few ideas about what we saw happening this year. "Xiaomization" is a thing.

Tweet or treat: I'm @benjaminjoffe and HAX is @hax_co.


2. THE FUTURE WITH HAX STARTUPS:
EAT BUGS & GET IGNORED BY BUSY ROBOTS

First, HAX graduated its 7th batch of startups.
Our Asia Demo Day and US Demo Day were both packed. It's getting serious.

Standing room only!

Video pitches (5 minutes each) are here - a TED-style production, on a budget!
Thanks to Jason (Producer), Antony and Steve (cameramen, editors) for the great work.

Now, how about devices treating anxiety, depression, Alzheimer's and spinal fusion issues?

That's the latest crop of medical devices from HAX

Check them out:
- Zenso :a "wearapeuthic" to treat anxiety. Uses biofeedback and neuroplasticity. Those are big words but it means "it teaches you how to not need it" and it's all safe.
- Berkeley Ultrasound: fight depression and Alzheimers' by focusing baby-friendly ultrasounds to tiny places in your brain. If you're so inclined, you might tickle other parts of your brain too.
- Intelligent Implants: favors bone growth fro spinal fusion surgery. An "implantable".

And because life should also be more fun and convenient, we have lifestyle products!

Custom earphones to listen comfortably to music, drinking design coffee and eating some bugs, knowing our fancy fixie is secure outside and our robotic suitcase is waiting patiently for our next move.
What else could we want?

Kickstarter makes your life better and fills the coffers of HAX

- Revols is rocking Kickstarter with custom-fit earphones. Audio is powered by Onkyo. It's the second time Onkyo supports one of our startups - 毎度 to that! We're looking for partners for others too!

- Auroma Brewing Company (ABCo) is also on Kickstarter with the Tesla of coffee machines: so much science into each cup! Even a non-drinker like me is intrigued: what if I did not like coffee because it wasn't brewed to my taste?

- The Livin Farms home bug snack shack can be yours. It has become the emergency breakfast of semi-professional fighter friend. So tasty. So much good elements- feel those dry proteins! It's the gateway bug. In addition to turning you into a vengeful God eating its creatures (anyone played Populous or any of Will Wright's "Sim" games?), it is also sustainable, clean and everything Katharina says in her TEDx talk (15min).

- Grasp is the lock for you, biometrics snobs! Keys and codes are so 2014. On Kickstarter too.

- Nua is the suitcase that follows you like a loyal companion.

Can you guess which projects were by Canadian teams?

Oh! Right. Things would not be complete without robots.

What about a retail inventory robot and an autonomous delivery cart?

Teams are from Willow Garage and MIT/uPenn. The latter reminds me of Big Hero 6. Funny enough (?) the former CTO of Skype announced a very similar project. The difference? He has 30 people and worked on it for 18 months. According to the interviews we read, our HAX team reached similar results in just 6 months.
We'll see if Team America wins!

- Simbe checks your shelves. Get out of the way, please.
- Dispatch brings your latte to your door.

Will they make friends? Do they care?

Check the full list for more.
Videos are here.


3. APPLY TO HAX 8

We are interviewing for HAX 8!
Hurry up to apply or recommend us good startups. (don't recommend bad startups)
Last batch we had 6 from USA, 4 from Canada, 4 EU and 1 Chinese.
Who will win HAX 8?

If you were wondering: YES, health and robotics are now a major part of HAX. This year we invested in about a dozen robotics startups, and 6 medical devices startups. I am working on a couple of guest posts on the topic. If you'd like to share ideas, email me.


4. EVENT CALENDAR

After Demo Day and a few talks (including at UC Berkeley, thanks folks!), I'm in Europe (mostly Paris) until around year end. Giving a few talks here (tonight!) and there (tomorrow) but mostly interviewing teams worldwide. You can reach me at ben@hax.co if you feel so inclined.

My colleague Duncan (HAX MD) is nearing the end of a US/Canada/UK roadshow before his annual ski trip. Cyril (HAX founder) is now our man-in-the-arena in SF. He does not believe in vacances.

Harass them here: duncan@hax.co and cyril@hax.co.

HAX partners come in different shades
of handsomeness, fitness, elegance and English fluency.
All claim some Mandarin abilities.


5. CULTURE CORNER

I have been a reader of Scott Adams's blog (the Dilbert guy), particularly his analysis on Trump rhetoric. I'd also recommend Sam Harris. He's a neuroscientist, philosopher, advanced meditator, former nootropics explorer, martial artist and dad. Try his podcast too- in particular the first chapter of his book "Waking Up". I also bought his new book on Islam since it's a highly relevant today and I'm fairly ignorant on the topic. It's a start.

Movie-wise, I was disappointed by the latest Woody Allen: Irrational Man (I liked lots Midnight in Paris, but Magic in the Moonlight did not enthrall me). I also enjoyed The Martian. Among HAX startups, Pycno and Livin Farms were voted "most likely to survive on Mars".

PS: While I won't elaborate, I had a "real-life" preview of Season 3 Episode 1 of HBO's Silicon Valley. You'd rather live something else on a Sunday.

Well, that's all for now!
Ben @ HAX