#27 | Paris, CES, Cryptofever, Phacochoerus Africanus, Dancer -- it's 2018
That meeting both of us forgot got you there... opt out below
About me: Website - Twitter - LinkedIn - Forbes - Medium
Our hardware startup fund: HAX

We're in 2018. Year of the Dog. I (was) graduated (from) high school 24 years ago.
This is a long one as Dec/Jan sort of piled up.

Today's A La Carte
01/ Big News | Paris!
02/ Business | CES, HAX Revamp, New Fund
03/ New Experiences | Cryptofever, Lego, Koyo
04/ Random Thoughts | Altered States, Expectations, Stocks, Safari and
05/ Cultural Corner | Antifragile, Dancer and some more stuff

01/
Big News
PARIS!
This is big news for me: after a rather nomadic life since August, I'll be spending more time in Paris this year, and State-side. I've been living in Asia almost full time since 2000 (18 years!) so I'm a bit concerned about the reverse culture shock. Fortunately, the country seems to have momentum, in particular in the startup world. We'll see what happens.

02/
Business
CES
Just back from Vegas. Here are my impressions. I wrote a slightly different version for Forbes. We had over 40 startups represented there (out of ~240 in portfolio) and some won prizes. I didn't go to see any show as I wasn't too inspired this time.

HAX Revamp
We are moving to 'rolling admissions' for startups. This means they will join our accelerator program along the year instead of twice a year only. This should help us manage our resources better, and provides more flexibility to candidates. The program now integrates two phases: the first one in Shenzhen (prototyping) and the second in SF (sales, marketing, fundraising). The investment package is a mix of cash and resources aiming at getting startups to market, or close to (most still need a seed round to get there, but not Seed A, Seed B, Bridge, etc.). We also have a new logo. The updated website should launch soon.

The mighty new HAX logo

New Fund
The new fund of SOSV (the VC behind HAX) It's taking shape for a first close in about 2 months. Interested parties can email me at ben@hax.co. Our focus is hard tech (hardware / life sciences) but we also had some successes with software (we're the only investor in Bitmex, currently the largest crypto derivative exchange — it's printing money!).

Some HAX News
HAX (and myself) were featured in a pretty cool book about the Shenzhen tech scene (get it: it's very cheap and a quick read). We were also extensively covered by Forbes (with videos).

03/
New Experiences
Cryptofever
I've been contaminated. I try to keep in mind my first stock purchases - and mistakes - circa 1998 (wow!) to stay cool, and avoid speculative obsession. I initially thought Bitcoin would soon break into a new group of users and wanted to buy a derivative betting on it going above $10k (it did, but I didn't — there is a learning curve to do something like that, with Bitmex for instance). Then I explored briefly with friends the possibility of arbitraging Korea's crazy premium on crypto-currencies (it was as high as 40%! -- quiz: which platforms are Korean?). But as expected, currency controls are tough (hence the gap). The government is also taking new measures to control exchanges. So instead I'm now learning about ETH, the one crypto-money that I think has legs. I also met a guy who buys "penny coins", hoping for a surge... To look the part, I bought a Ledger Nano-S (a cold storage device for crypto) over the counter at CES (they were gracious enough to sell me one - this French startup sold 1 million units so far! And just raised $75 million for expansion). I also signed up for my first crypto meeting in Paris, and… was rejected as I arrived 5min late (rain, traffic…)! What happened to French time?!

Lego
My nephews are 7yo and inherited our extensive lego collection (lots of castle and space stuff). I like that they are experimenting with creation but their skill is not quite there yet so I sat down with them to partake. I wasn't too inspired initially, but upon spotting some Technics(TM) parts (I didn't use them much back in the day), I remembered the weird mechanical sand creatures of the Dutch artist Theo Jansen I had seen in his TED Talk and decided to build something along those lines.

Basic principle

Finding the right beams and connectors proved challenging as one of the rascals was hogging useful beams, and others were hard to find in the messy boxes of spare parts. I ended up with a rather Frankenstein-esque set of legs based on a basic drawing I found online, but the mechanism worked and managed to impress. As always, the people of the internet have done it all -- I think the real deal is this guy (he has 2.5M views and Theo has 4M). It is truly a beautiful and spectacularly functional piece. Hats off.

Koyo
I had a quick biz trip to Japan for a meeting with one of our fund investors, and found myself with a few spare hours so I decided to visit parks to see koyo - red autumn leaves. It was a bit early but still nice.

Not your average bunch of trees

I also stopped briefly by the Tokyo National Museum in Ueno. There was an interesting room for Japanese art that received western influence. There, I was quite impressed by a series of prints with daring angles. They would have won photography prizes for sure. As I learned with drawing, it's not about the hand, it's the eye.

Check that out!

Karate Man
I trained for 1.5 years in high school, then did a bunch of other martial arts (I learned Shorinji Kempo in Japan -- it's a kind of karate/aikido mix -- even got a black belt and won some tournaments). There is a karate dojo nearby so rather than lift weights in Paris I decided to dust off an old gi and sign up. A bit rusty but still in shape. We'll see how it goes.
04/
Random Thoughts
Altered States
In Loic Le Meur's (founder of LeWeb, among other things) recent newsletter, he talked about his transformative ayahuasca experience. I also drank it a few years back (I first saw it in a book about Sting, then in the documentary Other Worlds). Contrary to Loic, while I enjoyed the ceremony and the people, I didn't get any insight or transformation. A 10-days silent Vipassana retreat - Loic also did one - was rather unpleasant but much more therapeutic.

Thinking of transformative experiences, I also didn't get anything either from a car crash about a decade ago either (I dozed off when driving back from LeWeb!). Neither from another nootropic -- it was accidentally too intense and I was still confused the next morning when I went… dragon boating with a friend who was training for a race. The other noob next to me at the back of the boat didn't eat breakfast, threw up overboard (as the girls boat was passing by), and ended up getting credit for his effort after ('welcome to the club!' -- which I felt was unfair as I think I paddled harder than him). Yet another (sort of inspired by Aldous Huxley's Doors of Perception I was curious about the sensory changes…) I only saw complex pac-man maze patterns, zero insights. And the rare weed back in the days did nothing much, or made me throw up (too little or too much, I guess). It has been quite a disappointment as Aldous Huxley, Steve Jobs and NDErs seem to have benefited. Rather than chemical or physical things, some "natural" intense emotions can also take you to new places… and (maybe) 'post-traumatic growth', but that topic will be for another time!

Expectations Management
After a few incidents (online fraud, car damage, etc.), my sister came up with an interesting concept: the 'Fucked up budget'. Basically every month, expect... some unexpected things will cost you. If they do, you don't fret (even if you go over-budget: it happens). If nothing does, you can rejoice. We extended the concept to 'Fucked up activities'. Particularly useful when you travel and make plans, you can expect some will work out well, while some won't (can't do them, or they end up being disappointing). It removes some of the pressure of making the most out of your trip. Don't forget to acknowledge and celebrate what works well, the absence of problems, and the unexpected goodness!

Stocks
I haven't bought stock for years (I only considered Facebook at $20 but I didn't have my account info with me and didn't — damn!). I had, however, bought Yahoo shares (wow!) to make a point. I had seen its Alibaba ownership was highly valuable and not reflected in the stock price (I discussed that with an ex-Goldman Sachs banker who was then working at DST, and we agreed - I even wrote a blog post then but it was on an older site I took offline since then - the same calculation happened here, much later).

The best thing Yahoo did was to buy Alibaba stock (40% for $1B in 2005). The worse thing was to sell some.

That stock finally went up to reflect the Alibaba+Yahoo Japan ownership, and is still doing very well. It was a nice surprise to see that sometimes when you think you're right against everyone's opinion (because you looked at the numbers yourself, for example), and if you're patient, you win. And also a nice surprise to see some meaningful $ coming out of it!

Safari addiction
I was in South Africa on a family trip to visit my sis and we went on safaris to see some wildlife. Teh reserve is large and we don't often see animals, so we had discussions why it was still fun to do. We found parallels with game addiction. It's a randomized reward system (mundane kudu or warthog, elephants, or a rare lion?) with some level of agency (you're looking for them) and bearable frequency (you might see something every 15 minutes or so…). With sometimes a rare event, like a group of elephants surrounding you. There wasn't any giraffe where we went, though. I felt cheated.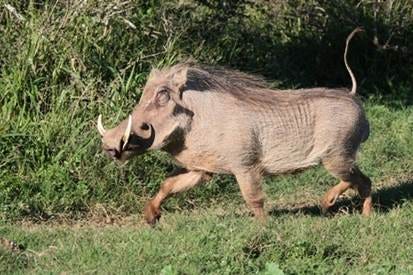 The Phacochoerus africanus gets old quickly

Wisdom From Cirque du Soleil
Years ago I gave a TEDx talk in Taipei and met the first Taiwanese to join Cirque du Soleil. He now trains people, gives talks, and organizes a large circus festival. Two years ago I asked him to help me learn backflips but I didn't give it enough time (like this quite interesting guy) and failed. I was back in Taipei in December and caught up with him. I asked him what the message of his talks was, and he replied 'that we are braver than we think we are'. It's an encouragement to accept uncertainty and challenge. While I agree with this, I would also say that we are also not as brave as we think we are. Sometimes actions can make us face ourselves and not like what we see. This can also prompt us to change.

05/
Cultural Corner
BOOKS

Antifragile***
Nassim Taleb's long opus explaining how some things gain from harm (rather than suffer from harm = fragile). I liked the idea of 'post-traumatic growth' -- it's the story of entrepreneurship, but also of many people who had NDEs (including recovering from cancer). The idea that one should cultivate anti-fragility rather than resilience is arresting. I think he also wrote 'comfort is the road to waste, not innovation'. To ponder.

The Art of Manipulation***
I found this one in Naval Ravikant's long (and great) interview (the link is wrong, but I eventually found the right book). This is really a book worth reading, alongside Schopenhauer's Art of Controversy (a quick 50 pages read for free that can change your life). The title will turn some people off (their loss for being 'word thinkers' trapped in semantic prisons), but it's like every tool: it's up to you how you use it. In today's world where brands, media, politics and nations always try to convince us and manipulate us, reading such books is an effective way to increase our awareness and 'immune system'. As usual, self-education is the answer. That is also why I would recommend to every man and woman to read The Mystery Method (rather than "The Game", which is more of a novel than an analysis). A few years back I got into an argument for even mentioning the book's concepts to show the (obvious) parallels with startup fundraising. I still stand behind the analogy, but know better now how to avoid triggers in public.

Beethoven by Romain Rolland**
Pretty randomly I read this old biography of Beethoven by the French writer Romain Rolland (free). What I took note of is that Big B. was forced to learn by his dad (parental pressure bordering on child abuse is a common theme among over-performers), then to perform. He seemed to have stayed some kind of adolescent romantic mind all his life. And of course he became deaf, which ruined his social life. It was a good reminder that genius comes at a price… or is the price itself the root of genius? If you envy someone, remember that lives are a 'package'. You can't pick and chose.

What you said was deep, man... Or maybe I'm just faking I heard you.

Gantz** (manga)
A friend recommended Gantz, a Japanese manga/anime where some dead people are given a new chance in a sort of alien-hunting game in the real world. I found many problems with the story but the fact that it looks so broken and is gradually explained (sort of) makes it addictive. The aliens are pretty ridiculous and the characters are what you would expect to sustain the attention of teenagers. I binge-read probably 100 chapters before going cold turkey, and feel I got nothing out of it. Damn.

Cryptoassets*
I thought I'd read the latest book on crypto to get up to speed. I haven't finished it but it wasn't very interesting so far. At the same time... what did I expect?

MOVIES & TV

Dancer****
The selection of movies in planes rarely attracts me -- hence "airplane movies" -- but on an AirFrance flight I stumbled upon this documentary about Sergei Polunin (not related to Slava) and it was wonderful. And the guy is an insatiable expressive monster. I'll explain.

But first if, like me, you were not too familiar with this Ukrainian ballet dancer, here is the gist: born in a small and rather poor Ukrainian town (and super flexible as a baby), his family noticed his gymnastics (4-8yo) were good then decided on dance. His first dance teacher said he had to 'redo his muscles' (ouch!). The father moved to Portugal, one grandma moved to Greece, to pay for the dance studies. Little Sergei started to feel the emotional cost.

Fast forward, he's a star in London and suddenly quits, goes to Russia where he's not well known, becomes a star there, quits again. 'I cannot take a day off or shoulders will have pain, get stiff. I feel like a prisoner, to this urge to dance'. When he goes back to visit his first teacher in Kiev and picks her up on the Pavarotti he used to dance as a child, you have to cry. Longing for a "normal life" after doing "everything that a dancer could with for", he asked his best friend to choreograph his last dance to a hit song. It's breathtaking. And here it is (22M views).

After doing everything that a dancer could wish for, he was longing for a normal life. Of course he's not done done - he now is a "guest dancer" in various performances, does projects. He's on a journey. At the end of the documentary he he finally dances for the first time front of his parents and grandparents. 'I used to feel very nervous when my parent were watching but I feel it's a joint effort where I'm at. I don't know why but I feel that for some reason now it feels good to share it with them.'

Let's wish him the best!

Not the usual image of a dance genius, but just go watch it.

Black Mirror Season 4 (** to ****)
I showed one episode to my mom but it was the creepiest. The show is still good, and they brought in more British-sounding actors, which brings back the original flavor.

King Kong (live South African Jazz musical)***
I didn't like the West Side Story version I saw in Paris (no emotion, cheesy/dated story) but I really enjoyed this story of the rise and fall of an African boxer. This 1959 musical - first of its kind in Africa - was stuck in limbo due to right issues, and just got revived last year. If you visit Cape Town, do go

Eddie Izzard (live comedy show)***
Do you know this cross-dressing British comedian? I went to his new semi-improvised show in Paris. I actually just realized I saw the very first performance of this series! It was fairly entertaining (still rough around the edges) but the show will probably be much better in a week or two. He performs in French. He's also known to perform in German, and wants to do it in Arabic and Mandarin! He also runs marathons for charity (apparently he's not fast -- he's over 50 now -- but he has run close to 100 of them in total, mostly alone). Quite a character!

Goodbye from Above***
Worth watching. A French movie about a disfigured artist who has pent up anger against his rich upbringing and his friend trying to survive in post-WWI France. I went to watch the movie knowing almost nothing, just on the name of the main actor and director. It turns out to be quite good bit fairly sad. As a friend reminded me 'aren't all French movies sad?'.

The Wizard of Lies**
Bernie Madoff. Nowhere as good as The Big Short (which was great). It looks like the guy got away with his scheme for decades just by touting numbers nobody checked. Or those who did failed to report. One whistleblower guy (it looks like there is a book and movie about him too) was ignored repeatedly by the SEC, which shows deeper problems... 'At least' it was a private thing that wasn't bailed out with public money, but many people were affected via funds who put money under Madoff's management. When something is too good to be true...

Straight Outta Compton**
The birth of West Coast rap? Oakland California, where not-yet-funded startups go today to avoid insane SF rents. The living conditions of young working class African-Americans were certainly quite defining. My fav song from Oakland is by Souls of Mischief (I know very few).

All Eyez On Me**
Wow! Another plane, another hip hop legend story. This one about Tupac ("Hiphop died with Tupac!"). I didn't know about his activists mom and step-dad. He seemed to be a promising individual before his untimely death.

Blade runner 2049**
Saw that one in SF. I didn't feel there was much novelty since the 1984 version. It's an eye-candy for nostalgics. I haven't seen the new Star Wars yet and heard mixed reviews -- I have rather low expectations there.

Collateral Beauty**
Movie with Will Smith and Ed Norton who play high flying advertising entrepreneurs. Smith loses his child and does 2 years of domino sculptures. He goes to a grief counselor, there is a quick funny bit when Norton mentions they flew an ayahuasca shaman flew from Peru and tried a personal intervention. Essentially it's a movie about grief…. One character's ex-husband writes after they lost their child and divorced 'If only we could be strangers again' (to fall in love again?). Other grief/divorce movies: E.T. (just saw part of a documentary on Spielberg talking about it), The Sweet Hereafter (very good), Kramer vs. Kramer (sort of).

Dying Laughing**
I watched distractedly this comedy documentary. Celebs talking about bombing, mostly. 'Bombing is necessary. It's the only way to get better but it's very painful' said an Asian comedian. Another: 'You bomb when you're young, coz u don't have the necessary skills. When you're old you're the only one who knows you're bombing.' the benefit of experience is thus cover-up and fast recovery ;)

How things are made (Discovery)**
The making (manufacturing, not inventing) of LED tubes, chocolate peanut butter bars, and pharmacy robots. Who wants those jobs except those who can't do any other? Answer, again, is education.

Archer season 5**
Airplane entertainment - the cocky and womanizing Archer is down on luck. It made for acceptable entertainment but it doesn't beat Japan's odd World of Golden Eggs or Oh! Mikey (you'll need to look for subtitles).

Golden Orchestra*
Sort-of feel-good movie about a woman who accidentally ends up leading an orchestra of senior amateurs. (Japanese) airplane movie. Forgettable.

Pirates of the Caribbean 5*
Token airplane movie. Took me two flights to finish it (why did I do that?). Not much to take away. I like the Sparrow character but it's not enough to make a good movie.

Well well, that's it!
- Ben