#25 | Speaking Gigs, Bed Bug, 3 Days Fast, and Some Persons of Internet
Where this from? We met somewhere! Smooth unsubscribe below
About me: Twitter - LinkedIn - Forbes - Medium
Our hardware startup fund: HAX

It's October already -- time to file expenses! And a few interesting bits happened.

Today's Menu

01/ Quick News | Blog posts, etc.
02/ Speaking Gigs | Paris, Shanghai, Shenzhen, San Francisco
03/ New Experiences | LP Event, Fasting, Bed Bug
04/ Persons Of Interest | New Section!
05/ Cultural Corner | Jodorwsky, Curb & More

Errata of #24
a/ I realized I accidentally sent the image of the solution alongside the hexagon problem last time. Apologies if it ruined it for you - I had taken a picture myself of the hexagon but it wasn't great and found another on google and didn't pay attention to the numbers displayed. If you want to try again, here it is:

It looks so easy!

b/ There are always some typos left but last time one phrase got cut short: "By now we know words like socialism..." continues with "socialism, democracy, communism have had their meaning twisted beyond recognition and carry a heavy emotional weight, which prevents rational debate." I found this phrase in The Human Situation, a book Aldous Huxley wrote late in life: "there are plenty of semantic prisons which do not permit us to think straight." Word.

01/
Quick News
+ Demo Day in SF was a blast. Almost 800 VIP attendees, including the who's who of VC and corporates.
+ Added all my Forbes columns to my medium blog.
+ A bunch of speaking gigs here and there.
02/
Speaking Gigs
+ Oct 26-27, Paris: Hello Tomorrow. I'll be giving a talk on the first day, and MC the startup competition on the second day. Lots of deep tech startups - great for HAX!
+ Oct 31, Shanghai: Honeywell Innovation for Growth Forum (private)
+ Nov 1, Shenzhen: Credit Suisse China annual conference (private)
+ Nov 2, San Francisco: moderating a panel at Skydive (private). It's the annual event for the SOSV / HAX team, founders and partners. Invite-only. And yes, that's the day after an event in Shenzhen. Time difference helps there.
+ Nov 3-4, San Francisco: New Context Conference, by Digital Garage (a large Japanese Internet group / VC). I will speak in the "Augmented Human" track. RSVP here with discount code "Speakerinvite" (30% off)

As planned, in September I moderated a "unicorn" panel in SF at our demo day, spoke in HK at a Global Corporate Venturing event, on a panel at the HBS HK Association Startup Competition, at SuperReturn (a LP/GP event) and in Seoul at K-Global Connect Pangyo Festival. I will comment on some of it in "New Experiences".

03/
New Experiences
Like a GP at an LP Event
As a VC we usually get lots of attention from startups in tech conferences. I joined for the first time a conference for Corporate VCs and another for LPs (the people investing in VC funds). Tables had turned! Most glanced at my badge, didn't recognize our company name, and moved on. Only after my speech, or thanks to an introduction or casual engagement a conversation would start. If you find VCs cautious, try LPs! For me it was a reminder of the value of PR (not sure how marketing applies in this category). It is much better when people know you before you walk in!

3 Days Fast
I completed my first 3-days fast (after trying a couple of 24 hours fasts). I had only water (no coffee or tea or whatever) and minimal physical activity (meetings all day and no exercise). The moment I finished I found out two of my friends were doing the same the week right after! In my case it was more an endurance test than a diet (I had a burger to "break fast") but it's interesting to realize it can be done. I was quite slow on Day 3 but still had productive meetings.

It's a Bug
I met with my very first bed bug.

Love at first sight

I had heard of them from a few people - including some former New York residents who talked about the fear, the pain, the shame. In my case it was a single little thing that I saw moving on a blanket while I was crashing a place in the Bay Area (no names). There is a high chance the bug traveled with me somehow, but hard to tell where it embarked. I had noticed some large allergic reactions on a leg, then arm. I freed the little bugger to the garden and was told later it wasn't the usual modus operandi, which is more about squashing and annihilation. I hope the neighborhood is safe still!

Odd Dreams
I sometimes remember strange dreams and take notes. When reading them after it's hard to remember the scene and make sense of it.
Here is a bit "Dream of chasing some kind of plastic electronic bird. When caught I'm chased." It sounds like a normal day down our office building in Shenzhen.

Another dream took me apartment-hunting in a futuristic-yet-derelict giant shopping mall. The mall had a huge rooftop with grass and trees on a very steep slope. People were just hanging out there. The apartment I rented was more of a windowless, tiny and narrow L-shaped corridor, with an old mattress half-rolled up. I then visited another place a very good friend was renovating, which was much bigger, with large windows and a bright circle-shaped corner room. His dad was painting the walls white. My friend told me there were other places like his in other streets nearby. I looked at the streets behind and felt better.
Up In The Air
I have several long flights coming up and it might be time to optimize a bit mileage. I generally fly economy and balance convenience and price and don't care much for miles.I currently have AirFrance and United cards but they don't do much for me. If I had to own a focus on a few mileage cards which should I get? I fly lots from Hong Kong, Paris and San Francisco.

04/
Persons Of Interest (New!)
POI #1
I was in SF for our big demo day show — we had 800 people registered, almost a 100% increase (all hand-picked VCs, Corporates and partners) — and a few things happened in SF.

At SFO I recognized in the line the iPhone hacker guy Scotty Allen. We had exchanged emails (as Shenzhen neighbors) but never met IRL. We had a chat and he gave me one flex PCB of his latest headphone jack hack.

A lot of effort for a headphone jack.

He also invited me to an event at the SF hackerspace Soundbridge in the Mission where some mysterious guest was speaking that night. We were both pretty jet lagged but he said it would be worth it and I decided to go. I took a short hour nap at the hotel in SoMa and woke up at 7:30pm. He had said the event started at 8pm but would be packed and to get there early around 7pm. I took a taxi/uber and arrived at 8pm as as staff was putting a "reached capacity" sign on the door. I trusted the Divine Providence and a few minutes later I was in, which leads me to…

POI #2
I had no idea who that would be. I thought a famous hacker? Maybe a Snowden telepresence robot? Well, it was Chelsea Manning (fka Bradley Manning), recently out of prison after 7 years! She was very calm and composed about the whole thing. Some of the ideas floated sounded like utopia but this was probably the right crowd for it. As I was about to leave, one female participant who seemed a bit tipsy passed by hurriedly and unfortunately didn't make it to the lavatories before the guacamole she ate got the best of her. It was a long day.

POI #3
This one is a past encounter but came up again recently and is quite unusual. I was in Tokyo a few years back and stopped by a hackathon organized by friends. There was a super short guy (we're talking 109cm here), who looked very young and was working a project. We talked briefly and he added me on Facebook (Facebook is used like LinkedIn in Japan).

Like Angus Young without the cap

Later I saw in my feed some selfies he was taking with people including semi-celebs, always with a very joyful comment, and I thought he had found good ways to have fun despite his situation. Well, he found a new way recently: he is now in the adult content business! He is making porn movies with ladies - an interview mentioned he had to lie down most of the time due to his condition, which almost seem like an advantage there. Who knows what he'll do next! And in case you wondered: no, I didn't find this news via a hashtag.
05/
Cultural Corner
RANDOM
Good Vibrations
Some Nobel Prizes can be controversial (esp. Peace, Literature, even Economics), but the Ig Nobel prize winners are invariably interesting. I have a few friends who suffer from sleep apnea, and snoring is a widespread condition. There might be a cure! Except the cure is almost worse than the problem, like when Australians introduced some poisonous toad to kill some other animal. Anyway, one solution is apparently to play the didgeridoo.

MOVIES
Endless Poetry (Poesia Sin Fin)***
The sequel to The Dance Of Reality telling the young years of Alejandro Jodorowky. I <3 the first one (it's really astonishing in terms of creativity, visuals and story), this new one (2016) is good but not as amazing.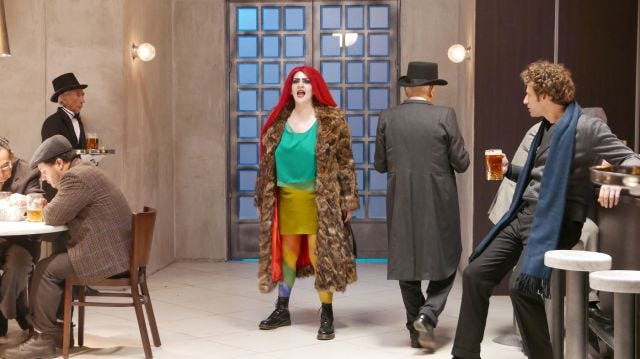 Endless Poetry: The whole movie feels like this. Means good.

Curb Your Enthusiasm (Seasons 8, 9 & others)***
I find this series quite entertaining. This Larry David character and his twisted-yet-it-makes-sense way of thinking, social mistakes -- or are they "breaching experiments"? I watched on one flight all 10 episodes (30min each) of the 8th Season (I'm only 6 years late) and later the new ones of Season 9, which feels a bit more "forced" than the previous ones.

I am Not Madame Bovary**
Feng Xiaogang is my favorite mainland Chinese filmmaker. I loved Big Shot's Funeral and A World Without Thieves. Even Mobile Phone, If You Are The One, Aftershock and Personal Taylor. This one is about a woman who takes on the whole legal system after a strange fake divorce brings trouble between her and her ex-husband. It's not his best but still interesting on contemporary Chinese society, the rift between countryside and city life, the layers of government and how "normal people" can keep its power in check.

T2**
The boys from Trainspotting meet again under unfavorable circumstances 20 years later. Things don't go well. It's pretty good, though not as fresh and pepsy as the first one.

Snowpiercer**
B-grade but a few good ideas. The world is frozen and a train with the last people is circling it. A kind of metaphor of society? A group of heroes... you can fill in the blanks. Overall utterly predictable but the scene where the guy gets his arm frozen outside is quite cool. The filmmaker is Korean and the few Korean characters are made to look a bit too cool - I almost felt I was watching two movies: one for the West, one for Koreans.

Thumb up for Snowpiercer

Spiderman: Homecoming*
Pretty bad. Should I give up on all this super-hero milking? I watched it on a plane, fast forwarded some bits, but I the Mighty Mouse still stole time from me. Special effects and good acting are like the fat, sugar, and salt of the media industry. No nutritional value there.

Happy Burnout*
I tried this German movie on a flight. An unemployed guy abusing the system pretends he had a burnout to keep his benefits. It had a bit of a "One flew over the cuckoo's nest" vibe but was quite predictable and boring.

BOOKS
The Hard Thing About Hard Things***
Re-reading this very practical book on difficult startup founder decisions by Ben Horowitz. One interesting bit was when he hired a new VP of sales who didn't fit the stereotype and was told "if he did, he'd be a CEO". Basically, hire the right person for the job at the right time!

The Subtle Art of not Giving a Fuck**
By Mark Manson. It could probably have been a shorter book, and it's definitely not timeless literature but still a nice nudge. In short: chose the fucks you give and don't give. Embrace your difference rather than compete for "better". Focus your time and energy on things aligned with your values, ignore the rest. His blog post on it.

That will be it for now. Time to board this flight!
- Ben