1 year with HAXLR8R + call for startups + some news (with a bonus cat video)
Apologies for the multiple emails- the folks at TinyLetter just made an update so everyone can receive this.

To make up for the disturbance, here is the world's first custom rap song for a kickstarter product.
It involves breakdancing, cats and robots. No electrical engineer was hurt in the making.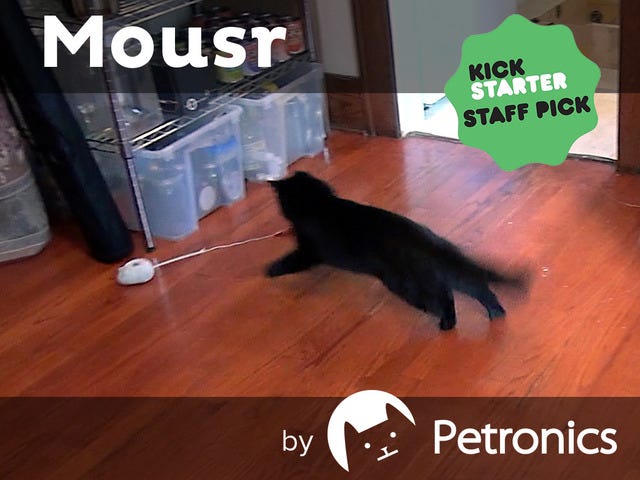 Mousr by Petronics (on KickStarter) is the word's first robot mouse for cats. Wait, what?!
Don't be selfish. Make a cat happy!

---
hi- Ben @ HAX here!

The year went by so fast! How was yours?
I just celebrated one year working with HAXLR8R ('HAX')...
...in front of my computer drinking Perrier in Paris...
...between a trip to Helsinki (Slush) and another to San Francisco (GMIC).

Summary

1. Year in Review: hardware, Shenzhen, trips and conferences
2. HAX 5 graduation: Robots in the wild
3. Do you know good hardware startups? $100k are waiting for them! Apply until the end of November.
4. Meet us! + 75% off Gold Pass to the GMIC conference in SF on Dec 1-2-3 (code: HaxGold)
CLICK TO TWEET Hardware Startups > Apply to HAXLR8R Winter program. Up to $100k in funding!
CLICK TO TWEET ==

1. Year in Review

After years working with mostly software startups it is quite refreshing to see people connecting the atoms with the bits.

Aside from a break during the Summer to meditate in silence and give a shot at surfing (hard!) and kitesurfing (fun!), this year has been quite busy:
- Joined HAX in Shenzhen, learned tons about how to build hardware startups and helped develop our "Lean Hardware" methodology
- Helped select and "accelerate" 20 hardware startups
- Gave a bunch of talks about hardware around the world including at 3 TechCrunch Disrupt conferences (NYC, Beijing, London) and Stanford. Also went to Taipei, Seoul, Helsinki, Tokyo, Vienna and a few more.
- The presentations collected over 200,000 views on Slideshare.
- Started a series of articles on TechCrunch on "Lean Hardware". Wrote 6 columns on prototyping, crowdfunding, financing and more.



2. HAX 5 Graduation + some Kickstarters

This fifth batch of hardware startups to graduate from HAX received nice : media : coverage.
We had lots of robots this time: 6 out of 10 startups! All pitch decks are here.
It's a bit of an emotional moment to see them graduate- I guess parents and teachers out there know this feeling.

Overall, the teams are wicked smart, hard working, and definitely went out of their comfort zone joining us in Shenzhen. It is also amazing how fast they manage to adapt and embrace the resources of the world's best ecosystem for hardware. Their creations should grace the world within the next 12 months.

The 10 HAX startups

Three of them launched on Kickstarter and are still live for a few days. Help them clear their goal!
a- MOUSR: If you have a cat, have a friend who has a cat, or consider having a cat one day, MOUSR by PETRONICS is the perfect robotic christmas gift for your cat.
b- OPENTRONS: If you want to create live organisms at home, OPENTRONS is the pipetting robot you never knew existed. Pretty much every biology lab they showed it too wanted to buy one or more units. Let's say NO to hand pipetting and YES to now findings in biology!
c- POINT: If you want home security but hate cameras, then head over to POINT by FORM. Ex-Apple guy with a stylish Scandinavian team. No they don't use the new Sweden Sans font.

Other projects are equally interesting, but haven't all launched yet:
- Prynt turns your smartphone into a polaroid camera. They went viral online since Demo Day. Will it cross $1M when it launches its crowdfunding campaign? Sign up to be among the first backers!
- VOLTERA prints PCBs for rapid prototyping. Yes.
- KATIA is the robotic arm you always dreamed of to hold your camera, stir your coffee or scratch your back. Sign up to WIN a TOBI, the developer version.

Check here for the whole list.
Most of those startups are or will be raising seed funding soon, so let me know if you want to contact them, or get their contact on their pitch deck on slideshare.


3. HAX 6 Applications are open until the end of November!


More money, more startups

15 startups will receive up to $100k in funding for our next program in Shenzhen.
We have already confirmed more than half the teams and are interviewing many more this week.
Hurry up & tell your friends :) your recommendations will get reviewed in priority.
Apply at http://www.haxlr8r.com
CLICK TO TWEET Hardware Startups > Apply to HAXLR8R Winter program. Up to $100k in funding!
CLICK TO TWEET


4. Meet us!




- Dec 1-2-3: We'll be at GMIC (sv.thegmic.com) in SF. I have a code for 75% off the Gold Pass (code: HaxGold).
Cyril from HAX and myself will be running the "Smarter Hardware Track" on December 1st with great speakers. Join us there!
- Dec 2-3-4: Cyril will be in Kyoto for the Infinity Ventures Summit.
- Dec 9-10-11: I'll be in Paris for LeWeb on a hardware panel.
- Jan 6-9: Cyril will then be at CES in Las Vegas.
- Jan 20 onward: We'll reconvene in Shenzhen for the start of HAX 6 in a swanky new office designed largely by our new partner and program director Duncan, who joined us from IDEO.


As usual, questions & comments are welcome => ben@haxlr8r.com

I wish you a great year end from from Paris, SF & Shenzhen!

Benjamin Joffe
General Partner, HAXLR8R
LinkedIn - Twitter